Check Your Local Listings and Reviews

Make sure your company's local listings are accurate on local directories and have proper citations.
Check Your Local Listings and Reviews with our free online software.  
What's Your Local Score?
Enter any business name and zip code and see how optimized it is for local search.
Make sure your company's information is accurate


Local listings, maps, and reviews in search engines and major sites such as Google Places, Bing Local, Facebook Places, and Foursquare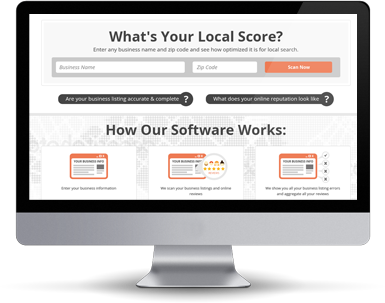 All you have to do is enter your business information and our software does the rest
To Check your local listings we scan all the top directories and show you how accurately your business information is showing up online. We identify the inaccuracy with your business name, address & phone number. We also identify the directories that your business are not currently listed in.
When your business listings are accurate and consistent, your new customers can easily find your business online.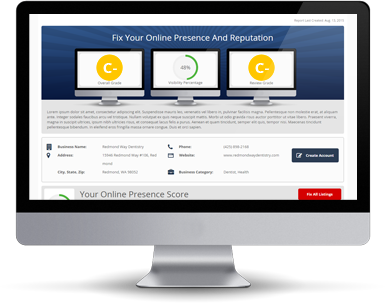 See what customers are saying about your business across all review sites
Our software scans and collects reviews across the internet and aggregates them into one place, so you can easily see how good or bad your online reputation is.
We extract top terms from your online reviews to analyze what people are saying about your business. We can tell you which areas of your business your customers are happy about and which areas you need to work on. This allows you to easily spot trends in your business, so you don't have to sift through tons of data.
Get Started Now With A Free Consultation
Our Directory and Citation Services are just part of our Local SEO Strategies that Increase Your Visibility on the Web
Google My Business signals are regarded as 19.01% and Directories and Citations account for an additional 13.31% of the Local Signals that Google uses to rank your business online according to moz.com.  Our services work to optimize these two areas and work to grow your business.  Click the link below to view a complete list of Local SEO Signals that we use to drive your company to the top and maximize your growth.
Digital Marketology Sharing Services